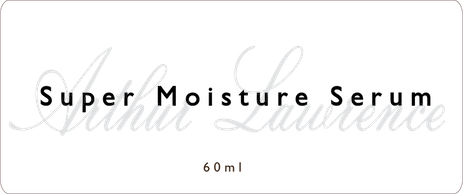 Arthur Lawrence Nutritional Skin Care
Super Moist Concentrate Serum 50ml
A non oily viscous gel with an abundance of natural moisturising factors.
Suitable for all skin types, will even benefit oily skin.
Activated with Pure Water
Super Moisturising Serum is a treatment designed to be applied in the morning or evening routine that endeavours to restore the moisture retiling ability of the skin by delivering an extremely high concentration of the Natural Moisturising Complex along with a very high concentration of a mix of Hyaluronic Acid of differing molecular weights.
Being so concentrated, this product is to be applied to wet skin or mixed with a little water in palm of the hand before applying to enable best assimilation
And so one might first apply clean water to the skin. Only a few drops needs to be used. Super Moisturising Serum being extremely concentrated and economical is convenient to travel with.
To Cleansed skin. Apply pure water and then a few drops of Serum to the damp skin. Alternatively mix to a little water in the palms of the hands before applying resulting solution to skin. To be used in extremely dry conditions or when the skin is experiencing a dry phase. Use over the regime at any time.
Extremely concentrated and economical

Requires water to activate

Non greasy, oil free.

Essential for dry environments.

Relieves dryness in extreme skin conditions.

Contains a concentrate substances that are naturally involved with the skins moisture retaining ability.
---
Share this Product
---
More from this collection